Friday, 11 June 2010 | 0 Comments
This is a resource for skills in working with time.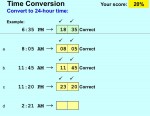 It's an Excel workbook with 7 sheets:
12 hour time to 24 hour time
24 hour time to 12 hour time
Time difference (2)
Time on the calculator (2), and
Help with time on the calculator
The worksheets are self-checking.
I used this today with my Year 9 class on their DER laptops.
Post a comment
Commenting is not available in this channel entry.