Monday, 14 June 2010 | 4 Comments
For a while, I've been developing a new look for this site and working out how to better connect my maths sites.
The first site I've moved over to the new design, because it was the easiest, is MathsKit.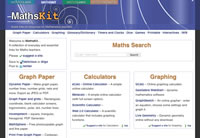 As a recap, on MathsKit I've attempted to gather together those everyday resources that maths teachers go looking for: graph paper, dice, a worksheet for a sub.
This is the start of a gradual development of my sites. Soon, I would like to include more interactivity on the MathsKit site where people can rate linked resources.
For now, is there an essential maths teaching tool that I've not got on the site? If so, please submit it.
MathsKit – share this site with your colleagues. Because I know so many teachers still like paper (I'm saying this half-seriously), print out this poster (PDF, 700KB, Colour and B/W) for your staffroom.
Post a comment
Commenting is not available in this channel entry.