Monday, 18 April 2011 | 0 Comments
In 2007, I wrote about a resource, a Number Spider, that I used as a lesson starter.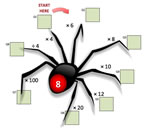 That was at a time where the "technology" in my classroom was an overhead projector. The resource that I linked in that earlier post is no longer available as well.
So, here is my version – for use with a projector / IWB. To get a new set of numbers, press F9 on Windows or press Command + = on a Mac.
Let me know if you find any problems.
I've updated the download file to fix a few bugs.
Post a comment
Commenting is not available in this channel entry.