Monday, 04 April 2011 | Comments
Each year I use the TV Show, The Biggest Loser, as an application of percentages.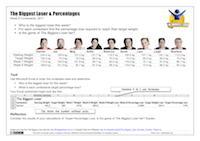 Below is a worksheet that sets out the contestant data that your students can use to perform some calculations.
Using this activity on the last day of term, instead of it being a calculator exercise, I took the students to the computer lab to use Excel.
It became obvious as a couple of students completed the task that there is an interesting question to pose: Is The Biggest Loser fair?
I have replaced the worksheet below to make it an Excel task and add the question of whether the game is fair.
Post a comment
Commenting is not available in this channel entry.