Saturday, 12 February 2011 | 2 Comments
A worksheet to accompany the online tool Pictogram Graph (see on MathsLinks).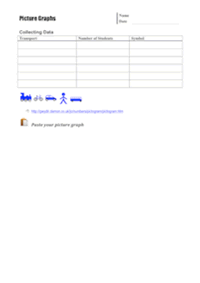 Two parts to this activity for a lower ability class:
Take a class survey on transport methods to school, students record the results on the worksheet (digitally) and assign the symbols. The graph can then be created online, a screenshot taken and their graph pasted into the worksheet.
Two more sets of data to complete two more picture graphs.
Whilst I thought this task would be straight forward, there was some good discussion with students about changing the scale.
Post a comment
Commenting is not available in this channel entry.