Thursday, 21 April 2011 | 0 Comments
With Stu Hasic's Student Response Network (SRN) virtual clicker software installed on the 2011 DER laptops that NSW public school students in Year 9 receive this year, I wanted to try it out.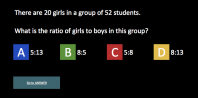 In Term 1 I did a couple of quick quizzes with my Year 9 class using SRN and they loved it. Given it's success, I've made two resources for use with SRN.
Both of these resources focus on practise of questions from Section B (multiple-choice, calculator allowed) of the School Certificate (external examination run by the Board of Studies NSW, sat by Year 10 students).
I have made the resource in Excel to leverage it's mathematical functions. Each resource has ten multiple choice questions based on past School Certificate questions, however, they randomly generate new numbers by pressing F9 on a Windows machine or Command + "=" on a Mac.
The answers, like those in the School Certificate, are answers that might be obtained if the student makes a mistake.
The intention is that the teacher projects the questions, students answer using SRN, teacher shows the answer and uses SRN to track student responses.
The resources in the zip file are:
srn_sc-maths_set1.xlsx – is on general topics, e.g. ratio, decimals, algebra.
srn_sc-maths_consumer.xlsx – focuses on the Consumer Arithmetic topic
I hope to make more of these, if you'd like to suggest a past School Certificate question (or topic) that might suit, leave a comment or contact me.
Post a comment
Commenting is not available in this channel entry.