Wednesday, 14 July 2010 | 0 Comments
In recent years, Sydney Water has been encouraging households to save water. "With limited and highly variable rainfall in the catchments, the community can no longer rely on water from the dams." source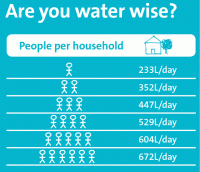 Source: Sydney Water,
Water Wrap Winter 2010
With the quarterly water bill, you receive a newsletter called Waterwrap. On the back, is the graphic to the right. There are three people in our household.
So, is my household water wise?
Here's the usage part of our latest bill.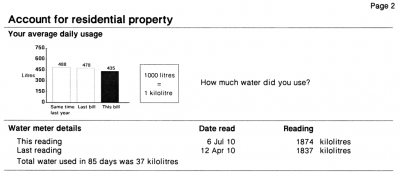 To be honest, when I first looked I didn't see that the graph was showing daily usage. Rather, I used the 37 kilolitres used in 85 days to calculate the daily usage.
Anyway, a simple application of rates, that would be meaningful and realistic to my classes.
As an aside, this morning (my time) Dan Meyer said:
Does anyone — even math teachers — /enjoy/ word problems? What are we doing wrong here?
"Are you water wise?" seems like a Dan Meyer – "Be Less Helpful" word problem that I would like.
Post a comment
Commenting is not available in this channel entry.