Tuesday, 13 July 2010 | 0 Comments
After the recent redesign of MathsKit, the next site I have redesigned, or really launched is MathsLinks.
Until now, the links section here on MathsClass was fairly hidden. Moving it to it's own site will hopefully be more useful.
MathsLinks is a directory of 195 (and growing) useful objects found on the web for teaching Maths.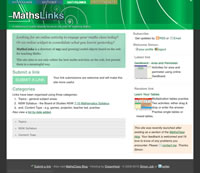 The site aims to not only collate the best maths activities on the web, but present them in a meaningful way.
Two important things about MathsLinks:
The aim is to have activities linked that are in use by teachers.
Your link submissions are welcomed, sharing the best of what we find (and use) from the web just makes sense.
To submit on the site, you need to register. If you've already registered here on MathsClass your login details will work over there as well. If you register on MathsLinks for the first time, you login details will work back here on MathsClass. [If you have any questions about registering or logging in, please get in touch
Please share any feedback or suggestions you have about the site in the comments or over on the site's contact form.
Post a comment
Commenting is not available in this channel entry.