Sunday, 05 July 2009 | 4 Comments
Teacher's throughout NSW DET schools are starting to receive their DER netbooks.
I got mine on Friday, and chose a bright red skin for the outside.
To give you an idea of the screen real-estate, here is a screenshot with GeoGebra open (click the thumbnail below for full-size).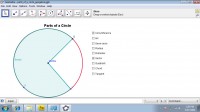 Tomorrow I'm going to a training course run by PD4Maths about GeoGebra, I'm going to take along this little machine to get some practical experience using it.
Post a comment
Commenting is not available in this channel entry.