Saturday, 10 January 2009 | 0 Comments
As I was putting together a lesson on using conversion graphs, I couldn't find a nice temperature conversion graph – so I created one.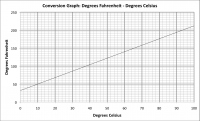 Click the image above for a good quality PNG file ready for use.
Or, if you want to edit the graph a little, use the Excel file below.
Updated 22 May 2012, I've made 3 more conversion graphs available on my new site, MathsFaculty:
Post a comment
Commenting is not available in this channel entry.