Thursday, 08 September 2011 | 1 Comment
Looking around, there are lots of activities for collecting and analysing data using small boxes of Smarties. Here is my version.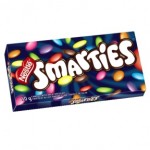 The package includes three worksheets to scaffold the collection and representation of data:
Collecting Data – this is where the student collects their individual data and records the whole classes data.
Collecting Data 2 – students take the whole class data and display in Frequency Distribution Tables.
Representing Data – from the Frequency Distribution Tables, students create Frequency Histograms and Polygons.
The Excel file is used by the teacher, on a projector/IWB, to collect the data in the class. It allows the teacher to collect the raw data and represent in Frequency Distribution Tables.
Post a comment
Commenting is not available in this channel entry.