Thursday, 07 May 2015 | 0 Comments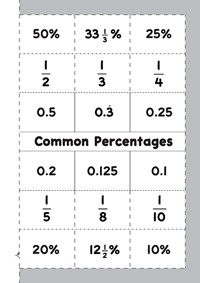 I recently made a Percentages Foldable (common percentages and their fraction and decimal equivalences) to include in our school newsletter. The idea was to encourage students (or parents) to make the foldable and put it on the fridge, or somewhere else prominent, to encourage the remembering of some common percentage comversions.
The foldable is downloadable (ready to print) from a special web-page I've created with the address:
On the web-page, there is also a short video instruction showing how to construct the foldable.
Please, feel free to include the link above in your school newsletter (maybe with a short blurb) or link to it on your school web-site.
Learn the common percentages from the comfort of your fridge!
Make this foldable, put it on the fridge with a magnet and test yourself to convert from percentages to fractions and decimals each time you open the fridge door.
Post a comment
Commenting is not available in this channel entry.