Saturday, 20 September 2008 | 0 Comments
Around this time each year, our programs have Year 8 and Year 10 looking at the Number Plane. For the end of the term, it's nice timing, because it allows us to draw some pictures on the number plane. One favourite is the logos of various NRL
teams.
My school has a collection of number plane drawings for various teams that someone put together years ago. I know it's years ago, because there's a logo for the Newtown Jets who left the competition in 1983.
So, last year I wanted to see how difficult it was to turn something into a number plane drawing. The Melbourne Storm team won the 2007 Grand Final, so their logo seemed a good choice. The worksheet (PDF 92Kb) sets out the coordinate paths that need to be drawn, and describes the size of the grid required.
The end result: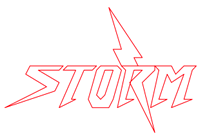 A nice altenative to pen and paper, is to use a program like Graph. Using "Insert point series", you can enter each of the paths. When you're finished you can remove the axis, get rid of the dots and even colour your logo.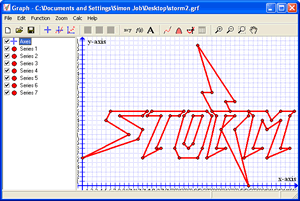 For a further extension, from Graph export the logo as an image. Take it into a paint program and colour it in.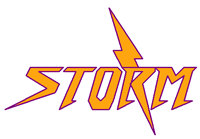 Post a comment
Commenting is not available in this channel entry.