Sunday, 18 October 2009 | 6 Comments
A Digital Education Revolution (DER) laptop in the hands of all Year 9 students changes everything… or does it?
The laptops include Microsoft Math which includes a CAS, that is, every Year 9 student can now get the computer to solve equations and simplify algebraic expressions. (More on the functionality of MS Maths in this review at squareCircleZ)
Now, I have no problem giving students tools like this – it is "real-world", that is, an engineer doesn't build a bridge without computer assistance. My question today is "how do I integrate it effectively"?
Year 9 are looking at expansion and factorisation of algebraic expressions the first week back, and I fired up MS Maths to see what it could do: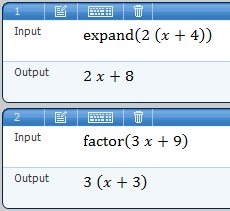 So, Microsoft Math solves the problems that many students at my school would say is that hardest thing they do in Mathematics in Years 7-9.
There are couple of ways I could deal with this:
Don't tell the students that their laptops can solve these problems.
After having learnt how to do these types of problems the more traditional way, show them how the computer does it – and introduce some higher-order problems that previously may not have been achievable by these students and allow them to solve with the traditional way or a computer.
Show them that the computer can do it from the start and see what happens.
In the end, though, the School Certificate exam is still paper-based without netbooks or graphics calculators.
Are there other options? What are your thoughts?
Post a comment
Commenting is not available in this channel entry.