Monday, 11 July 2011 | Comments
Last term I had Year 9 review and learn index notation and the index laws through some self-directed activities.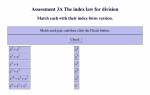 At each step along the way, they could test their understanding online with a matching activity or quiz. I built the activities using Hot Potatoes.
A zipped file of the original Hot Potatoes files, images associated with the questions and exported HTML files is below.
If you use Moodle, you can upload the original Hot Potatoes file and Moodle integrates it into your page and records the scores of the students.
Without access to Moodle, you can just use the included HTML files.
Try out the quizzes here: Index Notation / The Index Laws Hot Potatoes Quizzes.
Post a comment
Commenting is not available in this channel entry.