Thursday, 01 October 2009 | 0 Comments
Tomorrow is the last day of term… hurray! Here's another end of term activity for use with your maths class.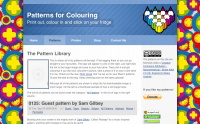 Check out Carlton Hibbert's Pattern Blog. I do this in a computer lab. Get the students to pick a pattern from the 125 and growing choices on the site. Instead of printing out to colour in, open the pattern in a paint program (we have Paint Shop Pro) and use the fill tool to colour it in. Most of the patterns work with the fill tool really well, although there are a couple that have gaps that will need to be touched up.
The maths involved… well… there are lots of geometric shapes in the patterns. Enjoy the break.
Post a comment
Commenting is not available in this channel entry.