Monday, 11 January 2010 | 4 Comments
I just posted on my personal blog about how I use the web, looking at how the various technologies (RSS) and tools (Google Reader, Delicious, Twitter) fit together.
You can read the article over there: Using the Web, but I made a diagram of how I use the web that I think is worth sharing here as well (click for a larger version).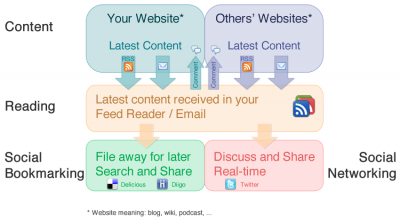 Image caption: Using the Web by Simon Job, shared under a Creative Commons BY NC SA License
That's how I use the web. How are you using these various tools? Do they have their own place like they do for me, or do you use them more in a mix? Have you done away with RSS or blog reading? Do you still not give a hoot about Twitter?
Post a comment
Commenting is not available in this channel entry.