Sunday, 26 October 2014 | 6 Comments
In the past, Maths teaching resources amounted to printed materials (be it a textbook, BLM). If the teacher didn't like what was available to them, they could hand-draw and Gestetner a more appropriate worksheet.
These days most teachers (I would say) are still producing static content with a few more creation options (Word, PowerPoint, maybe a graph from Excel).
There are also dynamic, interactive options like GeoGebra, Desmos or your favourite graphing software. I suspect most teachers are still using these at a basic level, if at all. We can rely on others producing some good stuff on GeoGebraTube for instance.
Increasingly, maths faculties are turning to a content provider for which they pay big bucks.
My solution has been to build electronic worksheets using Excel. Struggling students engage with these, they appreciate a scaffold and immediate feedback*. These worksheets, however, rely on having Excel available (I have never tried them on Excel on an iPad). There would be a whole additional development process to get them working on Google Apps (think BYOD(Bring Your Own Device)). They are also time consuming.
Moving to the web reduces reliance on specific software. I've been playing with this on MathsStarters, e.g. Bingo. After seeing what Ken Wessen is doing at The Mathenæum, I added some graphics (see Area & Perimeter, Number Plane).
Here's my next step - an online worksheet that gives the student some options as to how much help they receive.
Surface Area of Rectangular Prisms, online worksheet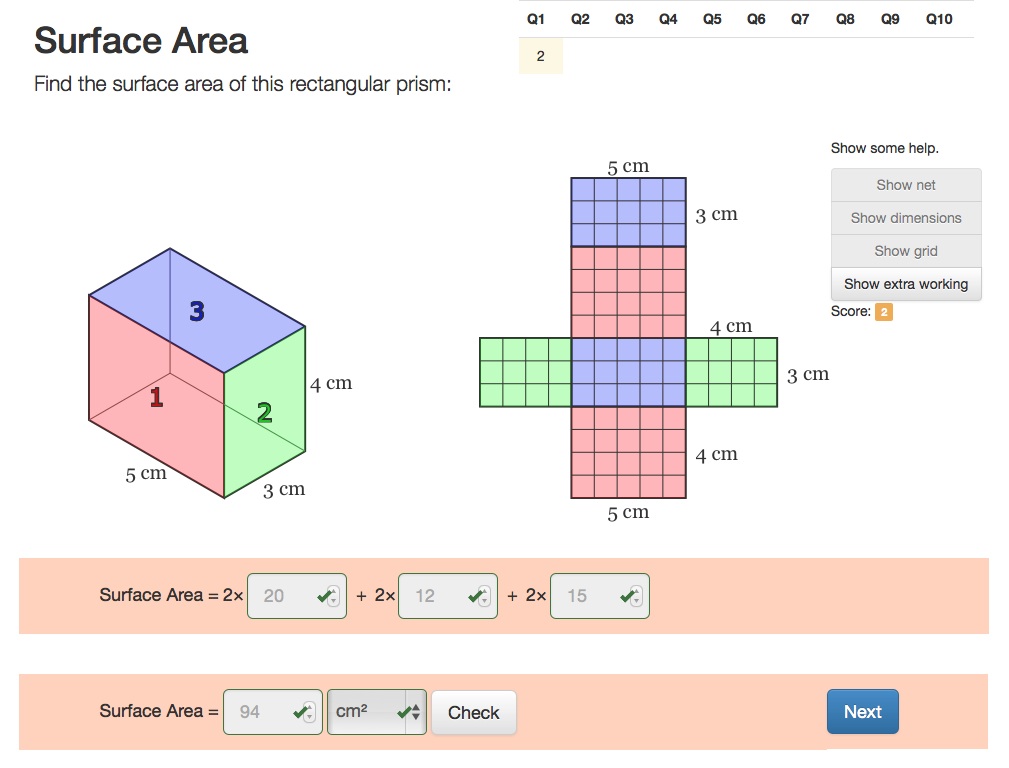 This one took me hours. But, a great learning experience.
I think that, more than ever, we need to be content creators. Becoming a content creator requires an increasingly sophisticated skillset. Increasingly I seem to be a developer.
*Yes, I know there's lots of web discussion happening at the moment about what good feedback is.
Post a comment
Commenting is not available in this channel entry.