Saturday, 09 March 2013 | Comments
For users of Pinterest, you can now share links on MathsLinks to Pinterest. Click the Share dropdown.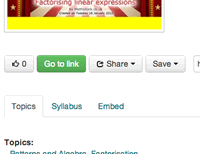 Try it on this link, you get a nice screenshot of the site in Pinterest.



Content: Worksheet – Print · File type: PDF, Word · 3 files · 4 Mar 2013

Content: Calculator, Interesting, Worksheet – Electronic · File type: Excel · 1 Mar 2013
Post a comment
Commenting is not available in this channel entry.