Monday, 08 June 2009 | 0 Comments
For a while I've been collecting and saving to a web-site maths objects to use with my classes. By objects I mean single activities, rather than a web-site of maths activities. I've been trying to take some of the many things I find and save to delicious and put a purpose to them – deciding that it's something I could use with one of my classes.
With the introduction of L4L soon, I think that this sort of repository will be a real benefit to me and the other teachers in my school. So, why not share it.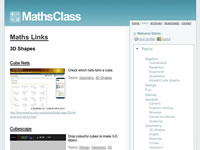 Introducing Maths Links that I'm aiming to be a directory of useful objects on the web for mathematics teaching and learning.
The focus is mainly on sites for teaching Years 7-10 in NSW, Australia. But I'm sure any maths teacher will find it useful.
Each item is categorised in up to three ways: by a topic (generally), by the NSW 7-10 Syllabus and by content type.
And, I'd invite you to submit links. Which introduces a new feature of this site – membership. It's free to become a member – it's just a way of registering on the site and it has a few benefits: 1. you can submit links, 2. the site knows who you are when you post comments.
You can register here or follow the register link on the Maths Links page.
When you submit a link, it would be great in the description if you explain how you use the site. I'm trying to get a directory of useful links not just a directory of every maths widget on the web.
Depending on how people use this and find it helpful, I have some other ideas in mind like allowing users to rate objects, leave comments about objects and to save favourites.
I guess in some ways this duplicates some of what is being done on the Maths Wikis I mentioned the other day. However, obviously it just gives choice as to the functionality. I think one benefit of a directory run like what I'm creating is that each individual item is categorised.
Anyway, check out the Maths Links, I'd love to receive your feedback and suggestions.
Post a comment
Commenting is not available in this channel entry.