Tuesday, 26 May 2009 | Comments
Depending on what they've previously experienced, students struggle with the immense scale of the universe (mind you, so do I).
The other day when I showed a class this photo of the Space Shuttle Atlantis and the Hubble Telescope transiting the sun, one student commented – "it would be really hot in the Space Shuttle" (thinking that the photo suggested that the Shuttle was very close to the Sun).
So, when you get to talking about Scientific Notation, students may not necessarily get the point of writing numbers like this. The Powers of 10 movie is great, but they could really make free access to the video better and of higher quality.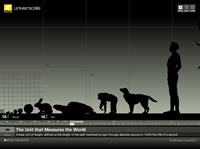 A new resource from Nikon, the camera company, is Universcale.
We are able to view all entities, from the microworld to the universe, from a single perspective. By setting them up against a scale, we are able to compare and understand things which cannot be physically compared.
Showing a scale of the powers of 10, you can quickly navigate through various sizes and objects. It's a really well thought out way of presenting a visualisation of the relative sizes of objects in our universe – but, it is really suited to individual use (with lots of text popping up) rather than showing to a class, but you can still work with it. Also, being from a photography company, you'd think they'd have stunning photos of the objects that are being compared… they don't.
Anyway, it's a nice site to have up on the screen whilst discussing scientific notation and understanding what changing by one power of ten means.
Post a comment
Commenting is not available in this channel entry.