Tuesday, 02 July 2013 | 0 Comments
In January, I wrote "let's make 2013 the Year of Sharing". We probably all know that some of the best sharing is not a specific link or a tangible resource, but an idea. Those discussions may happen in the staffroom, over a coffee, on playground duty or on a social network.
Just the other day I was reminded to think a little different when I saw how a colleague had a difficult class engaged when drawing straight lines. It was simple as A3 paper, A4 gird paper, textas for colour.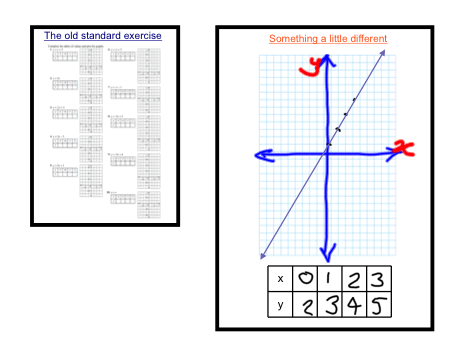 So, in my 2013 quest to encourage teachers to share, I have added a feature to MathsLinks (a site for sharing links) and MathsFaculty (a site for sharing files/resources) which I hope will develop some community and the sharing of ideas around the resources on these sites.
On each link (e.g. this link shared by Jacqueline Thirteen Ways of Looking at a Half) or resource (e.g. Penelope's Mathematics (2U) Summary Posters) you can now add a comment. The feature allows someone registered on the site to add a comment quickly. The comment might be an explanation of how they used a resource, or a review of the resource encouraging others to try it.
I hope this feature sees some use and most importantly sharing of great ideas.
Post a comment