Sunday, 29 August 2010 | 2 Comments
After 2 terms as a relieving Head Teacher, moving back to the normal classroom teacher load has been a bit of a shock. Even with faculty matters, I found myself achieving more of the extra things as a Head Teacher.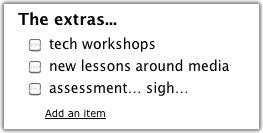 This weekend, after Friday night…, I did no "teaching work" – it was great. Family just takes priority. So, I was thinking, how do others prioritise the extra bits?
In my fifth year, the basic bits of teaching all fit to together well. But there's this list of "like to do" extras: help other teachers with tech, develop more engaging lessons/units around media tech, overhaul assessment.
I guess it's just a matter of "do what you can" and keeping things in balance.
Post a comment
Commenting is not available in this channel entry.