Thursday, 07 January 2010 | 0 Comments
Teacher's all have their own way of keeping track of student attendance, and other aspects that are recorded in class. Here's mine, it might give you some ideas.
I record, all test marks, report outcomes and comments in Excel, I have a single Excel file for each class. But, there's still a need for a paper based method for easy recording in the classroom. Lugging even a small netbook from desk to desk, when I'm checking books or homework, is just not practical.
In my Excel file for each class, I have attendance templates, where I put all the lessons for the term in (how I do this is quite nifty, but not easy to explain, another post perhaps) and print to a PDF.
Example of the roll page (click to enlarge):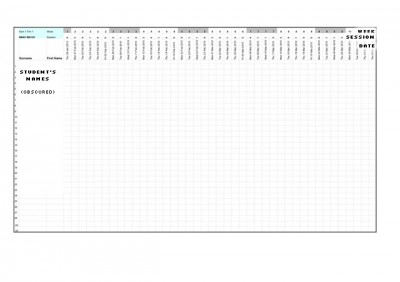 I also make a page with the student's name and blank grids.
Example of the grid page (click to enlarge):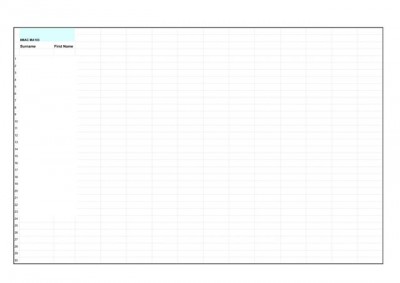 For each class, I end up with two PDFs: the roll and the grid. I then combine the PDFs in Adobe Acrobat, but for each class I include 4 of the grid pages.
So, in the end, I have a book with the roll for a class and 4 grid pages, then the next class. This diagram might explain: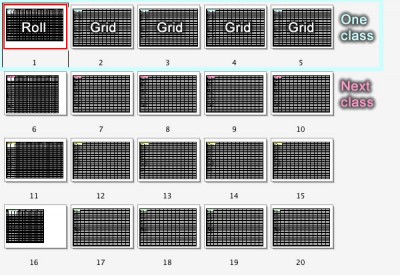 Last step, upload online using Officework's Print & Copy Service. This 20 page booklet, with a coil binding (folds back nicely) and covers cost $8.60 and picked it up the next day. [I will note here, that when submitting online, I have never received the final product in the exact same specification that I submitted. Usually the cover choice is different. I also select a heavier weight paper, but never get it. But, overall, I get what I need.]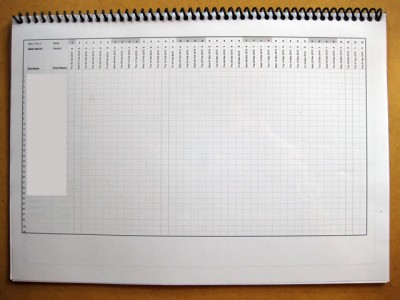 Submitted online and getting this done in the holidays, is quicker than trying to get it done at school (and school doesn't have the nice coil bindings).
Post a comment
Commenting is not available in this channel entry.