Friday, 16 January 2015 | 3 Comments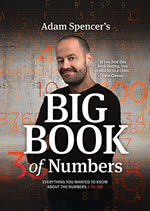 This holidays I wandered through Adam Spencer's Big Book of Numbers (currently sold out). For teachers, if you purchase from Adam's site, I paid a little extra to also get a Lesson Plans booklet.
If, like me, you're a fan of the Numberphile videos, then I would describe Adam's book as Numberphile-like snippets on the numbers 1 to 100.
As a high school maths teacher, there are lots of little tidbits in this book to throw into a lesson.
I have endeavoured to map the book to the syllabus.
Google Spreadsheet: Big Book of Numbers to the NSW Syllabus for the Australian Curriculum (and the Australian Curriculum)
(or download as a PDF 58 KB)
If I've missed something, feel free to add via the form.
Thanks Adam for a great book.
Post a comment
Commenting is not available in this channel entry.