Monday, 30 March 2009 | 6 Comments
It's been a little quiet around here – mainly due to the busy time of term and sickness.
Anyway, I recently got a packet of protractors for my class. Every one of them has a problem, maybe you can spot it.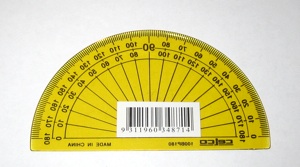 Of course, the label is not nice to peel off, leaving stickiness behind. So, the next step is to remove the stickiness without removing the lines.
Apologies if you one day find this post via Google thinking it might be something useful or interesting.
Post a comment
Commenting is not available in this channel entry.