Saturday, 22 November 2014 | 0 Comments
There are students in my classes for whom no matter what you do, they will not engage. They lack motivation. The motivations I would have had at school: please my parents, work hard out of a sense of duty, do my best to move forward to the next thing, do not exist even a smidge for some students.
I wonder if this just reflects a shift in society generally.
I can't believe I'm referencing an article about Kim Kardashian, but...
Kim Kardashian squeezes Robert Redford out of Bondi restaurant, SMH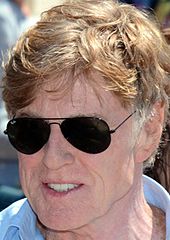 Robert Redford, Attribution: Georges Biard [source]
The gist of the article:
Kim Kardashian who "personifies everything that is held in esteem when it comes to fame in 2014"... "famous for just being famous" causes chaos forcing Robert Redford "American actor, film director, producer, businessman, environmentalist, philanthropist" to leave a restaurant. Effort is no longer rewarded or considered important.
Increasingly, as I discuss a future with students, they just assume they will fall into something - more precisely, they will fall into exactly what they want to do - effort does not cross their mind.
Here are some excerpts from the positive norms to encourage in Maths Class by Jo Boaler:
Everyone can reach the highest levels they want to, with hard work.
It is good to struggle and make mistakes.
Math is a growth subject, it takes time to learn and it is all about effort.
As a maths teacher who sees a 5 class of 30, two or three times a week - I think this is one of the greatest struggles we face - encouraging effort.
Post a comment
Commenting is not available in this channel entry.