Tuesday, 06 April 2010 | Comments
A different term to say the least. The lack of posts on this site illustrates how busy things were.
Head Teacher
I think the best phrase to sum up being a relieving head teacher for a term was given to me by Brendan Jones
From the top down there was the weekly dump of policies being discussed, new procedures to be familiar with and analysis of questionable data.
From the bottom up there were high expectations of dealing with behaviour issues, many many behaviour issues.
Being the head teacher in the middle I seemed to be filtering relevant information from the top down and trying to express the concerns from the bottom up, all the while still teaching 4 classes.
Teaching
Year 8 is a tough year group. I seem to have spent a lot of time this year re-preparing lessons which were pretty good (well, they were just a year ago). Some of the ways I've tried to improve the learning in the classroom:
Use of PowerPoint to act as a visual indicator of where we're up to in the lesson. I'm finally using the icons I posted about earlier. Here's what is on the screen as the students enter the room.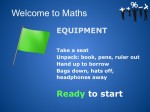 Review and changes to every lesson plan, and every worksheet.
Introduction of weekly homework sheets. A single page of review questions covering the lessons of the week.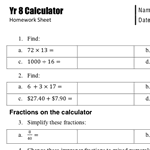 Digital Education Revolution (aka Year 10's laptops)
Very little.
Links
A handy mnemonic that I used several times this year: Multiplying and Dividing by Powers of 10.
Post a comment
Commenting is not available in this channel entry.