Saturday, 25 April 2009 | 0 Comments
I wonder how often maths teachers make confusing statements like this in class: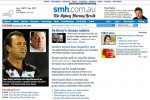 Single aged pensioners may lose one-third of an expected $30-a-week increase in the May 12 budget. [emphasis mine, front page of smh.com.au on 26th April 2009]
What they actually mean is that the expected increase will be $20.
Post a comment
Commenting is not available in this channel entry.