Saturday, 17 February 2007 | 0 Comments
At my school, one of our key values is "organisation". Organisation covers many things in our school, like lining up, walking on the left, and bringing the necessary equipment each day. In the classroom, organisation is encouraged through regular book checks.
At the start of the year, as part of talking about classroom rules and expectations, I talk about bookwork expectations. This year, I did more than talk, I made an example page, scanned and annotated it, printed it out onto an overhead slide in colour. This way, the students know what is expected in their books: margins, dates, headings, question numbers, marked exercise etc. It's also laminated on the wall, as a reminder/check.
In week 2 of Term 1, books are collected to check that students have a book and they're following the expectations. In our faculty we have a simple marking scale for books: Excellent, Pass or Resubmit.
This year, using an idea I got from Priscilla, I made up some labels that had the key things I was checking listed.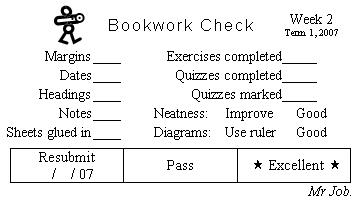 I ticked things done correctly, crossed things that needed improving (or circled for Neatness and Diagrams), and marked Resubmit, Pass or Excellent. Then stuck the label in the students book.
This little rubric had many advantages:



Book marking seemed quicker, because I could quickly check off each item.


I found myself given more students "Excellent", due to this clear list of expectations. Excellent was apparent by a full label of ticks, even if the student's writing was not the neatest.


Students were given detailed and meaningful feedback and could see where they need to improve to head towards an Excellent.
It seems some parents found the stickers and had their kids fixing up their books.


Such a small little thing like a printed label, has made bookwork checks more meaningful for the students, parents and myself.
Post a comment
Commenting is not available in this channel entry.