Tuesday, 25 November 2014 | 0 Comments
I found this design on a photocopied worksheet from an old textbook, but I don't know which, so cannot credit.
(If you know the source, please let me know)
Here's an animated gif of the steps.
I had students create this using a ruler and set square (drafting triangle).
Or download as a PowerPoint:
---
Sunday, 23 November 2014 | 1 Comment
Matchbox cars, specifically that brand, have a scale written underneath.
I've always wanted to do something with that.
[click to enlarge]
Here are some questions I might ask, before any calculations are done:
Which is longer in real life, the Honda or the Volkswagen?
Without calculating, estimate the real length of the fire truck.
Then,
Find the real length of all.
| | Honda Insight 2010 | Volkswagen Bus | Lexus GS430 | Fire truck |
| --- | --- | --- | --- | --- |
| Scale | 1:62 | 1:59 | 1:64 | 1:123 |
| Model length (mm) | 69 | 72 | 75 | 74 |
| Calculated length (mm) | 4 278 | 4 248 | 4 800 | 9 102 |
| Real-life length | 4 390 | 4 505 | 4 826 | |
[click to enlarge]
What about this Matchbox plane? It has no scale. I measure the model's length as 106 mm. The model is a Cessna Citation X with a length of 22.05 m.
Therefore, the scale should be 1:208.
Any other good questions? What else should I do?
---
Saturday, 22 November 2014 | 0 Comments
There are students in my classes for whom no matter what you do, they will not engage. They lack motivation. The motivations I would have had at school: please my parents, work hard out of a sense of duty, do my best to move forward to the next thing, do not exist even a smidge for some students.
I wonder if this just reflects a shift in society generally.
I can't believe I'm referencing an article about Kim Kardashian, but...
Kim Kardashian squeezes Robert Redford out of Bondi restaurant, SMH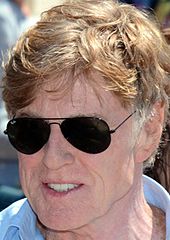 Robert Redford, Attribution: Georges Biard [source]
The gist of the article:
Kim Kardashian who "personifies everything that is held in esteem when it comes to fame in 2014"... "famous for just being famous" causes chaos forcing Robert Redford "American actor, film director, producer, businessman, environmentalist, philanthropist" to leave a restaurant. Effort is no longer rewarded or considered important.
Increasingly, as I discuss a future with students, they just assume they will fall into something - more precisely, they will fall into exactly what they want to do - effort does not cross their mind.
Here are some excerpts from the positive norms to encourage in Maths Class by Jo Boaler:
Everyone can reach the highest levels they want to, with hard work.
It is good to struggle and make mistakes.
Math is a growth subject, it takes time to learn and it is all about effort.
As a maths teacher who sees a 5 class of 30, two or three times a week - I think this is one of the greatest struggles we face - encouraging effort.
---
Thursday, 20 November 2014 | 0 Comments
I think I just found the activity for the last period on the last day of the year.
In 2012, Joe Ayoob broke the world record for the longest distance paper airplane flight with a plane designed by John Collins. In this video, Collins demonstrates how to fold that plane, the Suzanne.
---
Sunday, 16 November 2014 | 0 Comments
Looking at the area of special quadrilaterals, I wanted the class to make the quadrilaterals starting with paper rectangles.
This particularly class, however, struggle with step-by-step instructions. A document camera would be great, but I don't have one.
So I made a set of videos, these had the benefit of being large, on the big screen and something a little different.
A lot of things could have been done better... next time.
---
Continue to all entries from November 2014
See the Archives for more…