Saturday, 15 September 2012 | 0 Comments
A summary of the workshops I attended at the MANSW (Mathematical Association of NSW) 2012 Conference. These very brief notes can't do justice to each session.
Day 1
1. Fractions for Understanding, Deborah Munro and teachers from Pymble Ladies College. Presented a number of hands-on activities for understanding and operating with fractions based on resources from Maths300 and Black Douglas.
Poly Plugs were an interesting resource that I had not seen before. An activity using Fractions Shapes was also shown.
Poly Plugs: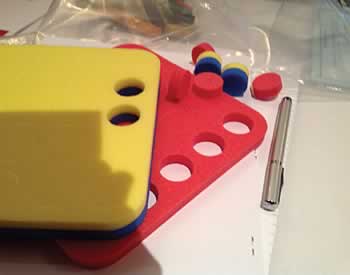 2. Extension 1 and 2 Sustainability – A North Coast Model. Colin Marr. Colin presented four challenges / strategies – 1. professional learning groups for teachers, 2. activities to encourages engagement of students, 3. storage of resources and 4. equity.
3. Mistakes, Discover and Opportunities – John Meng, Rooty Hill High School. John presented 11 common mistakes he sees, he then showed how he uses Adobe Captivate to test students and provide feedback about mistakes they make. See John's web-site for some Captivate templates.
4. The Australian Mathematics Curriculum 7 to 10 – What NSW did next. Robert Yen. See the link under Additional Resources on this page. My summary would be – the Australian Curriculum looked to limit the amount of content to allow time for exploration and application… then NSW writing its own Syllabus (final version to be released this month) has put a lot of content that was dropped back in. Sad face.
Day 2
5. Why inverses are so important. Mike Abecina – William Clarke College.
Mike got us to see inverses throughout the curriculum and how inverses could be used to solve difficult problems. Mike referred to The Bijection Principle. Something for further reading.
6. Extending Mathematics. Robin Nagy. Robin presented some resources for exploring and extending concepts presented in Extension 1 and 2. For example, the Quincunx for leading into the Binomial Theorem.
Your thoughts
If you were at the MANSW Conference and would like to share your thoughts, feel free to use the comments.
There may be some future additions to this post, and I will include here any reflections made by others.
Posts by others
Mr Drake has a reflection on Day 1
Posted in • Review | Short URL: http://mths.co/2740
Post a comment
Commenting is not available in this channel entry.